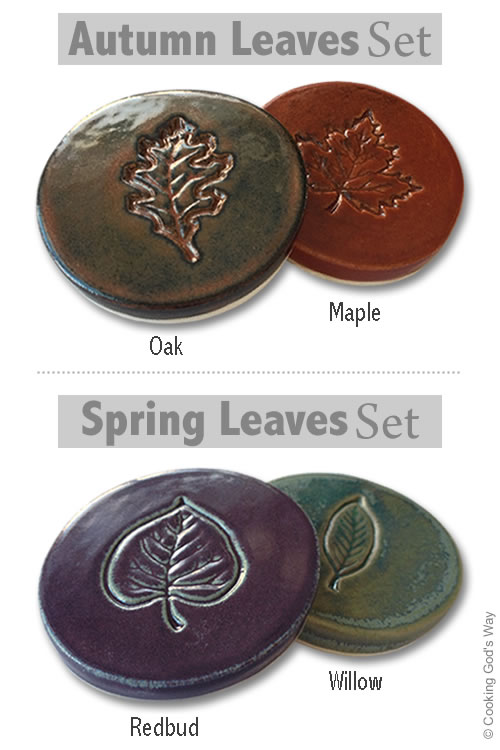 Need something to keep those veggies down in your ferment?
Tired of using rocks, baggies of brine, cabbage leaves, or other various items?
Searching for a solution that is "safe", non-toxic, and ACTUALLY works?!
How about something nice to look at and decorative enough to be left out on the kitchen table or counter?!
Cooking God's Way Premium Lacto-fermentation Weights are the answer. These weights are handcrafted by local Artisans at our Texas location from a custom porcelain clay mix, which is designed to be non-porous, stain resistant, non-toxic, food safe, and durable.
Each weight is hand formed, with a layer of colored, lead-free, glass applied that is fused to the decorative stamped top of the weight; making each one a unique work of art. These lacto-fermentation weights can be easily cleaned in the dishwasher providing years, and very possibly a lifetime of use.
Why Use Weights in Lacto-fermentation?
Using a weight during lacto-fermentation will hold the veggies down under the brine, thus virtually eliminating mold or other issues in your ferment.
Why choose our weights?
All materials made in the USA.
Handcrafted by local Artisans in Texas.
Collectible, various colorful designs.
Natural Porcelain clay is non-toxic, food safe, and non-absorbent.
Lead-free, certified non-toxic glazes.
Dishwasher safe.
Premium Lacto-fermentation Weights

2 5/8″ in diameter x 3/8″ thick (fits

Wide-Mouth

and Larger Jars)
approximate weight = 3 ounces each
food-safe, lead-free, non-toxic, and dishwasher safe
handcrafted by local Artisans in Texas*
made with all U.S. materials

Weights come in sets of TWO, available in various designs.

Order your collectible Porcelain
Lacto-fermentation Weights TODAY!

*Due to their handcrafted nature, individual weights may vary slightly in color and size. Each weight will be a unique and beautiful addition to your kitchen.




$15.95

Per Set of 2
Reg Price: $19.95


Weights come in sets of TWO, available in various designs.