Kohlrabi-Broccoli Slaw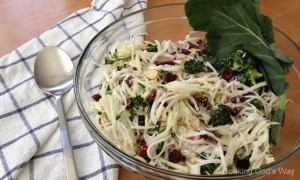 1.25 to 1.5 pounds Kohlrabi, peeled and cut into ⅛ inch, or slightly thinner, matchstick/julienne (about 4 cups)
2 cups fresh broccoli florettes, chopped small
½ small red onion, finely chopped
⅓ cup dried cranberries
⅓ cup of sliced almonds, lightly toasted
¾ cup mayonnaise (preferably homemade mayonnaise)
¼ cup Buttermilk or plain kefir
2 Tablespoons apple cider vinegar, raw
10 drops liquid stevia, or to taste
Sea salt, to taste
Black pepper, to taste
Add kohlrabi, broccoli florettes, onion, cranberries, and almonds to a large mixing bowl. Toss all together to combine. Set aside.
Meanwhile, in a smaller bowl, whisk together the dressing ingredients. Season to taste with salt and pepper.
Pour the dressing over the slaw mixture and toss well until the vegetables are thoroughly coated. Taste and season with more salt and pepper and needed.
If you can wait ;) cover and let "marinate" in the fridge for at least 30 minutes to 1 hour to allow the flavors to come together. (If not just dig in.... it sure is good!)
Slaw will keep for several days in the fridge.