Quick & Easy Hummus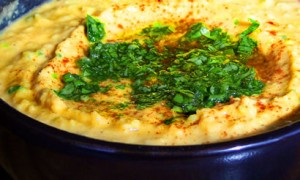 2½ cups cooked garbanzo beans (chickpeas), canned or homemade
¼ cup cooking liquid from homemade beans, or liquid from canned beans, or water
1½ Tablespoons extra-virgin olive oil
¼ cup lemon juice
¼ teaspoon garlic, minced (or more to taste)
½ teaspoon ground cumin
1 teaspoon sea salt
⅛ teaspoon ground cayenne (or more to taste)
Place the cooked garbanzo beans in the container of a food processor, along with ¼ cup of the cooking liquid and process until mixture is slightly chunky.
Add the rest of the ingredients and process until mixture is smooth and fluffy. Taste and if needed and extra lemon juice, garlic, salt, or cayenne to your liking.
This dip tastes best at room temperature. If not serving right away, store in an air-tight container in the refrigerator for up to 1 week (remove from refrigerator 30 minutes before serving).
Serve with raw vegetables for dipping. If you'd like to give the dip an extra special touch, when ready to serve drizzle the hummus with olive oil and sprinkle with a little paprika and/or parsley for garnish. This makes for a lovely presentation.