Join the many thousands of others that are now, Lacto-fermenting: The Easy and Healthy Way
Have questions? Lacto-fermentation, what is it? Is it good for my health? Does it preserve vegetables? Is it safe? Tired of getting different advice all over the web?
You're not alone.
"Lacto-fermenting: The Easy and Healthy Way" eCourse is what you have been looking for and your answers are here. This eCourse will not only explain what you need to know to lacto-ferment foods, but also  how these probiotic rich foods are great for your health.
Designed for Easy, but more Importantly SUCCESS
This eCourse is divided into 11 easy to view video lessons that you can work through at your own pace.
Each lesson is presented:
With Focus – no wasted time on needless information, so you can make these supercharged foods today.
Detailed instruction – each lesson takes you through the WHY and HOW of these great foods.
Practical use – many great food use ideas are presented, these are taste good foods.
These three attention points are followed in the lessons so you come away from the eCourse Lacto-fermenting: The Easy and Healthy Way not only having learned how to lacto-ferment, but you'll actually have a complete picture of how to enjoy these foods daily.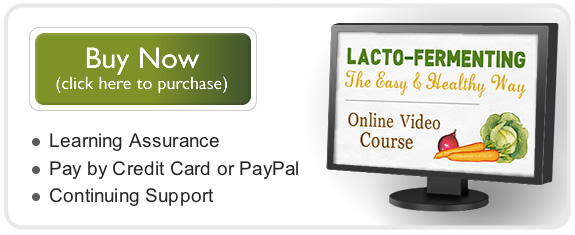 Outside of the U.S.? Please contact us to purchase the eCourse.
"After the first day, I started lacto-fermenting foods I did not even know I could.  It was so easy to do and the video lessons to understand, I don't know why I did not lacto-ferment years ago. Great thing is my family loves the foods and says they will eat them even though they are – healthy foods! I love it! My little ones have great snacks all the time." Susan W. – Michigan

Lacto-fermenting, at your Own Pace, in your Own Way
The eCourse "Lacto-fermenting: The Easy and Healthy Way" is designed for you to experience at your own speed, on the media device that you feel comfortable with.
Intense Training – set aside the time and run through all the lessons
1 lesson a Day – each lesson is made to be accomplished in less than 15 mins.
The eCourse lessons can be viewed on computers, tablets, iPads or smartphones
View each lesson as many times as you want from anywhere in the world
Lessons are available to you for 1 year
Perfect for Beginners or Experienced who want More from their Ferments
"Lacto-fermenting: The Easy and Healthy Way" eCourse is for people at different stages of their lacto-fermenting knowledge, including:
You've just heard about lacto-fermenting and don't know what to do next
You've made one or two lacto-ferments but want more direction
You've been laco-fermenting for a while and want to expand your items
Note: This eCourse is not made for people who don't want to experience new foods.
"Jeff and Shannon are the masters. Absorb these lessons and be ready for your lacto-ferments to taste great as they do." – Mike S. – Florida

Take Small Steps to a Great Distance
By the end of the 11 Lesson eCourse, you will…
have an understanding of the history of lacto-fermented foods
know the science of lacto-fermented foods and how they can influence health
be familiar with the tools used in lacto-fermenting
learned the methods of lacto-fermenting and how to apply them
understand how to make homemade yogurt, dips and cheeses with it
use homemade whey for fermenting and highly nutritious protein shakes
discover sauerkraut in its many forms, transforming meals
see how carrots and cucumbers can be pickled to create a super snack rich in pro-biotic bacteria
be able to make bean dips, hummus, salsas, etc. to bring health to many meals
… and much more.
"Jeff and Shannon's step-by-step eCourse will absolutely help you take the actions you need to begin your life of lacto-fermented foods. Having attended the Lacto-fermenting live class, I can say the eCourse takes it to a new level. I can actually say I learned even more from the eCourse since I was so immersed in the material." – Sherry N. – Texas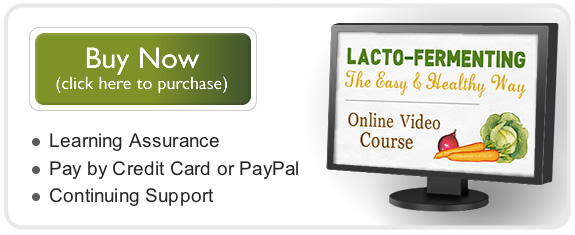 Outside of the U.S.? Please contact us to purchase the eCourse.
eCourse Ease, With Real Support
This eCourse "Lacto-fermenting: The Easy and Healthy Way" offers support beyond the lessons – for a full year.
You will receive:
Access to all documents that support your lessons (class notes).
Recipe and food fact sheets for each lesson that you can download or print out.
Email support to insure your learning is complete.
Complete thought out information that is a must-have, even if you have already done basic lacto-fermenting.
"The very first lesson totally changed what I know about lacto-fermented foods!… What else could be added to the course?… Well, it could come with a chef who would do all the work. lol Actually the foods are easy to prepare. :)" – Terry P. – Texas
Your Lacto-fermenting eCourse Instructors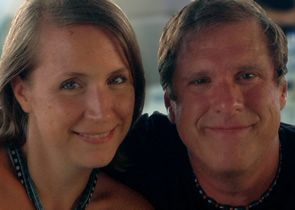 Jeff and Shannon have been teaching live food classes for many years now on lacto-fermenting, sourdough baking, kefir and kombucha in Dallas, Fort Worth, and Houston areas. Many thousands have taken these classes in person, and enjoy the timely real manner the information is presented in.
Shannon is the author of "Cooking God's Way Daily Recipes", "Sourdough Baking Made Easy", and "Lacto-fermenting The Easy and Healthy Way". She developed the hundreds of healthy eating recipes of CookingGodsWay.com, which has an outreach in over 100 countries.
Jeff brings his passion for teaching from his University and Corporate positions to light. He is a board certified Holistic Nutritional Consultant, published author, and speaks regularly on nutrition and healthy living.
---
More Reader Reviews
"The eCourse was a total success. I used some of the information presented right away and fixed the problems I was having with my ferments. Now I am fermenting weekly, instead of once or twice a month." – Janet W. – New York
"I am now fixing fermented foods for my family, and they love them! It is so easy. Thanks." – Mary A. – California
"I was so pulled in by the way the information was presented. It was fascinating how the videos poured out right in front of me. It surprised me at how easy it was to recall what I had learned. I love the style." – Tiffany L. – New Zealand
---
Begin your eCourse Lacto-fermenting: The Easy and Healthy Way for one price
This 11 lesson Lacto-fermention eCourse is open for you to begin now.
For a low cost you will be given the tried and tested information that is designed to bring life and revitalization to your food menu as you continue to use it over the coming months and years.
Learning Assurance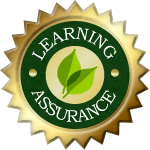 We are offering you learning assurance peace of mind. So can rest assured that when you complete the eCourse you will understand how to "Lacto-ferment: The Easy and Healthy Way".  Our learning focused eCourse gives you supporting documentation to read online, or print out, along with personal support from us.
Get the "Lacto-fermenting: The Easy and Healthy Way" eCourse by hitting the following button and begin your new journey.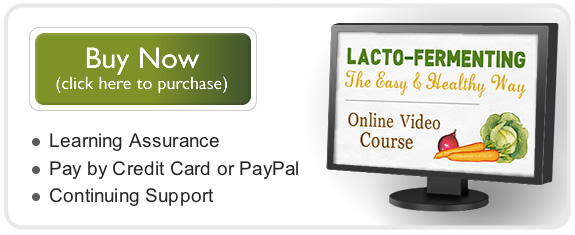 Outside of the U.S.? Please contact us to purchase the eCourse.
---
If you have any questions that were not addressed here, please contact us using our Contact Form.