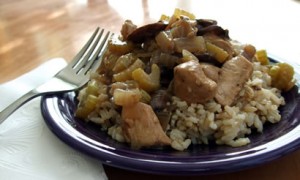 Growing up this used to be one of my favorite meals that my Mom made. But since I found out about The Many Dangers of Soy, I have avoided making it. But in comes this healthy soy sauce substitute that is easy to make and comes pretty close to tasting like the real thing…without all of the dangers. So now I can have my chop suey and eat it too! And so can you 😉
1 pound organic, boneless, skinless chicken breast, cut into 1-inch cubes
virgin coconut oil (about 2 Tablespoons)
1 medium onion, chopped
1 cup celery, sliced
2 cups sliced mushrooms
1 teaspoon minced garlic
1/2 cup chicken broth
1/2 cup soy sauce substitute
1 Tablespoon arrowroot powder
1/2 teaspoon ground ginger
salt & pepper, to taste
hot cooked brown rice (soaked & cooked using the NT method)
Heat 1 tablespoon oil in a large skillet over medium-high heat. Add cubed chicken and cook until no pink remains. Remove from pan, set aside.
Add more oil to pan, if needed. Add onion, celery, mushrooms and garlic; stir-fry 3 to 5 minutes.
Combine broth, soy sauce substitute, arrowroot, and ginger; stir well with a whisk to remove any lumps. Add chicken back to pan, along with the broth mixture; cook a few minutes more, or until thickened. Serve over hot rice.
Serves 4.