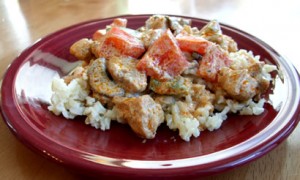 This recipe is a classic…..it is rich, creamy, and full of peppers and mushrooms. It's a family favorite here! Try it over some brown basmati rice if you are not on a sugar-grain free diet.
1 pound skinless, boneless chicken breast halves, cut into bite-sized cubes
2 Tablespoons coconut oil
1 small red bell pepper, chopped
1 small green pepper, chopped
1 cup chopped onion
2 cups sliced, fresh mushrooms (about 5 ounces)
1/2 teaspoon salt
1/4 teaspoon pepper
1/8 teaspoon cayenne pepper (you may use less/more cayenne, to suit your taste)
1 teaspoon minced garlic
2 to 3 teaspoons paprika, to taste
2 Tablespoons butter
1 cup sour cream
Heat coconut oil over medium-high heat in a large skillet. Add the cut-up chicken and cook until only a little pink remains. Add the bell peppers and onion to the skillet and saute until just tender. Add the mushrooms and saute a few minutes more; until they are slightly softened/reduced in size, and the chicken is cooked through.
Reduce heat to medium; add butter to the skillet and cook until melted and all vegetables are tender. Season with the salt, pepper, cayenne, and minced garlic. Add paprika, to taste, starting with 2 teaspoons and adding more if needed.
Reduce heat to low and add the sour cream, stirring until all chicken, vegetables, and seasonings are mixed thoroughly. Serve over some brown basmati rice if you are not on the healing diet.
Serves 4.
*Sugar-Free / Grain-Free

Email To A Friend

Print This Page