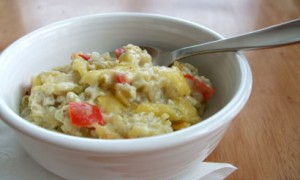 This green-chili casserole is a complete meal all wrapped into one, just serve with a side salad if you wish. The casserole is easy to throw together and can be made ahead a day or two in advance.. Simply place the unbaked casserole, covered, in the refrigerator. When ready to bake, uncover and place in the oven as it preheats. Bake as usual, though it may take about 5 more minutes to heat through.
3 cups cooked brown rice (1 cup dried rice = approx. 3 cups cooked)
1 Tablespoon coconut oil
1/2 medium onion, chopped
1 small red bell pepper, chopped
1 pound chicken breast, cubed
1 cup organic sour cream
2 cans (4-ounces each) chopped green chilies, drained of excess liquid
1/4 teaspoon garlic powder
1 teaspoon mexican oregano
2 teaspoons ground cumin
salt and pepper, to taste
2 cups (packed) organic, shredded, cheddar cheese
Preheat oven to 350F. Butter a 2-quart casserole dish, set aside.
Heat coconut oil over medium-high heat in a skillet. Cook cubed chicken until only a little pink remains. Add onion and bell pepper and continue to cook until the veggies are tender. Remove from heat, set aside to cool slightly.
Place the cooked rice in a large mixing bowl. Mix in the sour cream, chopped green chilies, garlic powder, oregano, and cumin until combined. If needed, season to taste with salt and pepper. Gently stir in half of the cheese, followed by the chicken-veggie mixture.
Spread mixture into prepared casserole dish, smoothing the top gently. Sprinkle top of casserole with the remaining cheese. Bake in preheated oven for about 30 minutes, or until cheese is bubbly and starting to brown and casserole is heated through.
Serves 6 to 8.