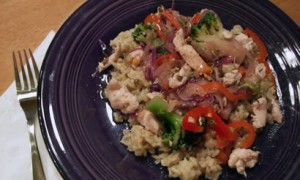 The simple flavors of garlic and ginger in this stir-fry really let the vegetables shine. So be sure to use plenty of vegetables that you enjoy. I used broccoli, onion, red bell pepper, and red cabbage. But feel free to substitute what you like. My food processor
made all the slicing quick and easy with its attached slicing blade. You can even slice the chicken in the food processor, though freeze it first for about 15 min. to firm it up (and make sure to slice the chicken last so as not to contaminate the other ingredients).
4 Tablespoons Coconut Oil, divided
1 pound boneless, skinless chicken breast, sliced in thin strips
3 teaspoons minced garlic (about 6 cloves)
1 teaspoon grated fresh ginger
1 teaspoon salt
1 cup sliced cabbage (any variety)
1 red bell pepper, thinly sliced
1 medium onion, thinly sliced
1 cup broccoli florets or cut green beans (or other favorite vegetable)
1 cup chicken broth, divided
1 Tablespoon arrowroot powder
1 Tablespoon toasted sesame oil
1 teaspoon apple cider vinegar
pinch of red pepper flakes, optional
3/4 cup fresh homemade bean sprouts (it is so simple to make your own bean sprouts, read about it here)
Heat 2 Tablespoons coconut oil in a wok or large skillet, over medium-high heat until hot. Add sliced chicken, season with salt and pepper, and cook until chicken is no longer pink. Remove chicken from pan and set aside.
Carefully wipe out same skillet. Add remaining 2 Tablespoons of coconut oil over medium-high heat. When hot add garlic, ginger, and salt; cook only until fragrant, about 30 seconds. Next add the onions, bell pepper, cabbage, broccoli, and 1/2 cup chicken broth. Stir-fry for 2 minutes; stirring frequently.
Mix 1 Tablespoon arrowroot with 1/2 cup chicken broth. Add mixture to the pan along with the chicken, sesame oil, vinegar, red pepper flakes (if using), and bean sprouts. Stir well to combine and cook until thickened, about 2 to 4 minutes more. Season with more salt, if needed.
Serving Tips (Advanced Healing Diet): If you are on the advanced healing diet, you could leave the chicken breast whole and serve the stir-fried veggies over-top.
Serving Tips (NOT on the Healing Diet): If you are NOT on the advanced healing diet, try serving this over cooked brown basmati rice. Also if you would like a slightly sweet stir-fry sauce, try adding about 1 Tablespoon of honey in the last step.
Serves 4.
*Sugar-Free / Grain-Free

Email To A Friend

Print This Page