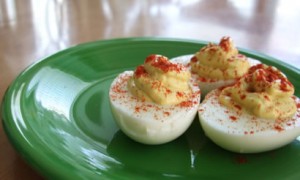 Deviled Eggs are a great source of protein and make for an excellent snack anytime of the day. They are relatively easy to prepare and make great appetizers for parties. If making for a party, simply double or triple the recipe as needed.
3 hard-boiled eggs, chilled (see How to Cook Hard-Boiled Eggs)
2 to 3 Tablespoons homemade mayonnaise or Vegenaise® made with Grapeseed Oil
1 to 2 teaspoons organic yellow mustard
salt and pepper, to taste
paprika, if desired (for sprinkling on top of the deviled eggs)
Tap eggs on counter to crack, peel and rinse them under cool water.
Cut hard-boiled eggs in half, length-wise, with a sharp knife.
Gently remove the yolks and place them in a small bowl. Mash the yolks with a fork.
Add the homemade mayonnaise (or Veganaise), yellow mustard, salt, and pepper to taste, stirring well to combine.
Spoon the yolk mixture into the halved eggs, or for a fancier presentation you can pipe the yolk mixture into the eggs.
Sprinkle the tops of the filled eggs with some paprika if desired. Serve right away, or chill in the refrigerator for a couple of hours and then serve (in this case, sprinkle the eggs with paprika right before serving).
Makes 1/2 dozen (6) deviled eggs.
*Sugar-Free / Grain-Free

Email To A Friend

Print This Page