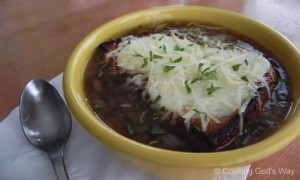 This french onion soup is a very simple, yet satisfying soup. It is quite easy to make and really comforting on these, drizzly-cold-rainy days as of late.
Topping this onion soup with cheesy-toasted sourdough bread makes this simple dish even more scrumptious.
5 packed cups thinly sliced onion, about 2-3 pounds (yellow or sweet onions work well)
4 Tablespoons coconut-ghee
OR 2 Tbsp. Coconut oil + 2 Tbsp. Butter
1 teaspoon unrefined sea salt, plus more to taste
1/4 teaspoon sucanat/rapadura sugar (optional, but helps the onions brown)
2 Tablespoons arrowroot powder
8 cups beef broth (preferably homemade)
1/2 cup dry white wine (alcohol will be cooked off)
ground black pepper, to taste
To finish: (optional, but delicious)
1 to 2 cups grated Swiss/Gruyere cheese
1 or more cups grated Parmesan cheese
Softened butter, as needed
6 to 8 slices of sourdough bread
Melt the coconut-ghee (or butter and oil) together in a 4- to 5-quart saucepan or Dutch oven over medium heat. Add in onions and toss to coat. Cover pot and reduce heat to low, letting them steep for 15 minutes.
After 15 minutes, uncover the pot, raise the heat slightly. Stir in 1 teaspoon of salt and the sugar. Cook onions, uncovered stirring frequently, for 20 to 30 minutes until they have turned a deep golden brown. This step is important, as it is the basis of the soup's flavor; so make sure the onions are caramelized nicely before moving on to the next step.
After the onions are well caramelized add the wine and stir to deglaze the pot. Add the broth, reserving 1/2 cup to set aside, stir to combine. Season to taste with a little salt and pepper, but do not over do it, you can always add more later as needed. Bring to a simmer. Allow to simmer partially covered for 30 more minutes.
Mix reserved 1/2 cup f broth with arrowroot powder, stirring until no lumps remain. Pour this mixture into the soup. Stir and allow to cook for a few more minutes until slightly thickened.
Turn off heat, but keep on the warm stove top while you make the cheesy-toast (see below).
Cheesy Toast for Onion Soup

Preheat broiler. Place slices of bread on baking sheet and place under broiler until lightly toasted on one side.
Remove from broiler. Flip the bread slices over and butter the non-toasted side of the bread. Place back under broiler and lightly toast.
Top with a generous amount of grated Swiss or Gruyere cheese and broil a few more moments until cheese is melted/bubbly. Remove toasts before bread burns.
To serve place cheese toast on top of individual bowls of soup. Top generously with grated Parmesan cheese. Serve immediately.
Tip for serving this soup to children: To make this soup easier for young children to eat you can cut the cheesy toast into small bite-sized pieces and float them on top of the soup OR you can simply serve the cheesy toast on the side.
Serves 6 to 8.