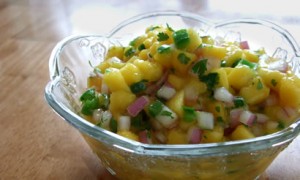 This salsa is great served with fish or chicken. Its light fruity flavor will liven up any meal.
1 large, ripe mango, cut into 1/4-inch cubes (1 1/2-cups)
1/2 medium red onion, minced (1/2-cup)
1 fresh jalapeno, seeded and minced (2 Tablespoons)
3 to 4 Tablespoons fresh lime juice, from 2-3 small limes
6 to 10 springs of fresh cilantro, chopped (1 Tablespoon, or more to taste)
Mix all ingredients together until thoroughly combined. Cover and chill in refrigerator for 1 hour or more, to allow the flavors to meld.
Serve with fish or chicken.
Makes 2-cups salsa.