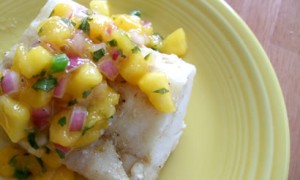 This is a delightful way to serve your favorite type of white fish. It adds so much flavor to what could otherwise be a boring meal. Try it, you are bound to be surprised 🙂 Next time I make this, I think I will even try it with salmon…who knows, could be great.
4 Pacific Halibut Fillets (5 to 6 ounces each), Cod also works well with this recipe
1 teaspoon ground cumin
1/2 teaspoon sea salt
pinch of cayenne pepper
dash of black pepper
extra-virgin olive oil
1 recipe Fresh Mango Salsa (see recipe below or click link to go the the recipe page)
Mix cumin, salt, cayenne pepper, and black pepper together in a small bowl.
Brush both sides of fish with olive oil.
Sprinkle each side of the fillets evenly with the cumin-spice mixture.
Grill or broil the fillets until cooked through.
Serve fish with a generous spoonful of mango salsa on top.
Serves 4.
Fresh Mango Salsa

1 large, ripe mango, cut into 1/4-inch cubes (1 1/2-cups)
1/2 medium red onion, minced (1/2-cup)
1 fresh jalapeno, seeded and minced (2 Tablespoons)
3 to 4 Tablespoons fresh lime juice, from 2-3 small limes
6 to 10 springs of fresh cilantro, chopped (1 Tablespoon, or more to taste)

Mix all ingredients together until thoroughly combined. Cover and chill in refrigerator for 1 hour or more, to allow the flavors to meld.

Serve with fish or chicken.

Makes 2-cups salsa.

Email To A Friend

Print This Page