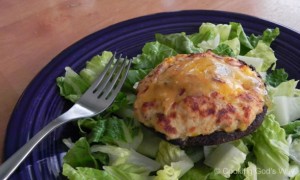 These stuffed mushrooms make a great "meatless" meal.
Served over a green salad, drizzled with olive oil and balsamic vinegar, they are delicious. Though they're equally good as appetizers for a party using small cremini mushrooms.

Salmon-Stuffed Portobello Mushrooms
These stuffed mushrooms are quick and easy to make and even freeze well (simply thaw before baking). The stuffing works well with small cremini mushrooms for a perfect party appetizer and is loved by many.
Recipe type:
Main, Appetizer
Ingredients
For the Mushrooms
4 to 6 portobello mushrooms OR use small cremini mushrooms for an appetizer
Extra-virgin Olive Oil
sea salt, to taste
black pepper, to taste
For the Stuffing
1 can (6 oz.) Alaskan salmon, drained
⅓ cup frozen organic corn, thawed
4 ounces cream cheese, softened
¼ cup shredded cheddar cheese
½ teaspoon dried oregano
¼ teaspoon minced dried jalapeno OR ½ of a small fresh jalapeno
⅛ teaspoon garlic powder
¼ teaspoon unrefined sea salt
Instructions
Preheat oven to 425F.
Clean mushrooms, remove stems, and carefully scrape gills away using a small spoon.
Place mushroom caps on a baking sheet. Brush with olive oil and season with salt and pepper.
Roast mushrooms for 10 to 12 minutes in preheated oven, or until just softened.
Remove mushrooms from oven and let cool while mixing the stuffing.
Using the back of a spoon mix the cream cheese with the cheddar cheese, oregano, minced jalapeno, garlic powder, and ¼ tsp salt until well combined.
Mix in the corn and salmon to incorporate.
Heat oven to 350F.
Divide the stuffing between the cooled mushrooms on baking sheet, filling each cap as full as desired.
Place in hot oven and bake until heated through, about 10 to 15 minutes.
If desired turn on broiler for a few minutes until top is bubbly.
Serve hot on top of a greens salad with olive oil and balsamic vinegar drizzle, or as desired.
Notes
*omit corn for sugar-free diets*
* Sugar-Free / Grain-Free

Email To A Friend