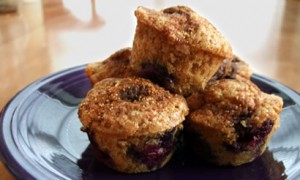 These blueberry muffins are the ultimate in flavor and texture…it's hard to believe they are truly made with only whole grains. The cinnamon-sugar topping adds to the deliciousness of these muffins, while it's the soaking process that helps make the muffins so tender. Read more about why we should soak our grains, in this article or get a copy of Nourishing Traditions: The Cookbook that Challenges Politically Correct Nutrition and the Diet Dictocrats
by Sally Fallon (you can find this book in our Store).
1 3/4 cup spelt flour
3/4 cup raw whole milk
1 Tablespoon apple cider vinegar
5 tablespoons butter, softened
1/3 to 1/2 cup maple sugar or rapadura / sucanat
2 large eggs
1 1/2 teaspoons vanilla extract
1/8 teaspoon almond extract
1/2 teaspoon sea salt
1 1/2 teaspoons baking powder
1/2 teaspoon baking soda
1 slightly rounded cup fresh or frozen blueberries
Topping: 1 Tablespoon maple sugar or rapadura / sucanat, mixed with 1 teaspoon cinnamon
12 to 24 hours before you wish to make the muffins: Mix spelt flour, milk, and vinegar together in a medium mixing bowl until completely moistened. Cover the bowl with a towel or plastic-wrap and let set for 12 to 24 hours.
The next day, when you are ready to BAKE the muffins: Preheat oven to 375°F. Grease 24 mini-muffin cups with coconut oil, set aside.

In a large mixing bowl, with and electric mixer, cream together the butter and sugar until light and fluffy. Add the eggs, one at a time, beating well after each addition (mixture with be a little lumpy). Beat in the vanilla and almond extract, salt, baking powder, and baking soda.
Gently add the soaking flour mixture to the butter-egg mixture. and mix in gently on low-speed (or by hand) until thoroughly combined. Gently fold in the blueberries.
Divide the batter between 24 prepared mini-muffin cups. Sprinkle top of batter, in each cup, with the cinnamon-sugar topping. Bake for 10 to 12 minutes, or until a toothpick inserted in the center of muffin comes out clean. Let cool in pan for 2 minutes, then remove to cooling rack. Serve slightly warm or completely cooled.
Makes 24 mini-muffins.