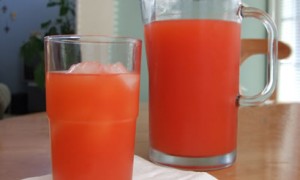 Lemonade is such a refreshing summer drink. The strawberries is this strawberry lemonade makes this drink extra special and even more refreshing on a hot summers day. Perfect for a party, or just anytime you need a special pick-me-up. This recipe easily doubles to make 2-quarts if needed.
Mix all ingredients together in a pitcher large enough to hold 1-quart of liquid. (If you so desire, you may strain out the seeds and pulp by pouring through a fine-mesh strainer.)
Store pitcher in the refrigerator until you are ready to serve. Serve over ice.
Makes 1-quart.
*Sugar-Free / Grain-Free
Strawberry Sauce *

Place all ingredients in a blender or food processor. Process to make a smooth puree.

Makes about 3/4-cup of sauce.

*Sugar-Free / Grain-Free
Email To A Friend

Print This Page