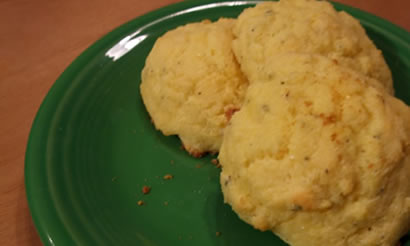 These cheesy drop biscuits are a great addition to any meal. Serve them with soups, stews, chili's, or any of your favorite dishes.
4 eggs
1/2 tsp salt
1/8 tsp onion powder
1/4 tsp garlic powder
1/4 tsp italian seasoning, or your favorite herb
1/4 cup coconut oil, melted
1/3 cup coconut flour, sifted
1/2 tsp baking powder
1/2 cup cheddar cheese, shredded
Preheat oven to 400°F. Grease a cookie sheet, set aside. (or line with parchment paper for easy clean-up.)
In a medium bowl blend together eggs, salt, onion powder, garlic powder, and italian seasoning with a wire whisk until eggs are beaten and seasonings are mixed through. Slowly whisk in oil a little at a time until combined. Mix in, with a spoon, flour and baking powder until there are no lumps; fold in the shredded cheese.
Drop by small mounds onto greased baking sheet (the biscuits will spread slightly and rise, so do not make the mounds too large or you will end up with giant biscuits). Gently form the mounds into rounded shape with spatula. Do not flatten them, just round out the edges to give them a nice shape. Bake for 10-12 minutes in oven until done, edges should be light golden brown.
Makes 8 to 1o average-sized biscuits.
*Sugar-Free/Grain-Free

Email To A Friend

Print This Page