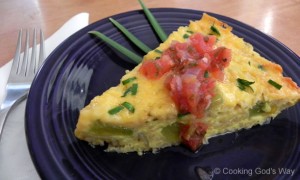 This frittata is easy to prepare — making it a perfect meal to throw together on a last minute notice. Great for surprise guests or just when you need a fast, delicious, nutritious meal for breakfast, brunch-lunch, or even dinner!
Feel free to use your favorite vegetables, cheese(s), and herbs/spices in this dish as you wish.
2 cups leftover "cooked" whole wheat capellini or spaghetti pasta, cut into 2-inch pieces
3 Tablespoons butter, coconut oil, or ghee
1/2 green or red bell pepper, chopped
1/4 cup frozen corn
1/2 of a small onion, chopped
8 large eggs
1/2 cup raw whole milk
favorite seasonings and/or herbs as desired
unrefined sea salt and pepper, to taste
1 1/2 cups shredded cheese (I used mostly cheddar with just a little parmesan)
Melt butter (or coconut oil/ghee) in a 10-inch oven-proof skillet over medium heat. Saute vegetables until just tender. (If using the frozen corn add in after the other vegetables are done cooking.)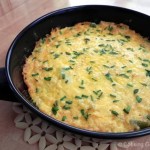 Remove pan from heat and add in leftover pasta, stirring in gently. Set aside.
Preheat oven to 350F.
In a large mixing bowl, beat eggs with milk until lightly frothy. Season with salt, pepper and any other favorite seasonings (I used a pinch of garlic powder and some oregano).
Stir 1/2 cup of shredded cheese into the egg mixture. Pour into pan with pasta and vegetables. Using a spoon or spatula gently smooth or level out the pasta egg mixture in the pan.
Carefully place pan in oven and allow to cook for 15 to 18 minutes, or until mostly set (will still be a little jiggly in the middle). Top with remaining cheese and allow to finish baking for 10 to 12 minutes more, until eggs are cooked through and cheese is bubbly.
Carefully remove from oven using pot holder(s) and/or oven mitt(s). Allow to cool for a few minutes before cutting and serving.
Great topped with Lacto-fermented Roasted-Tomato Salsa.
Serves 6 to 8.