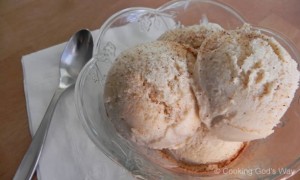 This ice cream is easy to make, using homemade eggnog and minimal other ingredients. It's a delicious holiday treat sprinkled with nutmeg on top. For an extra "creamy" ice cream, you'll want to use more cream when making the eggnog…though it's not necessary, as it's yummy as is.

4 1/2 cups homemade eggnog, divided
2 Tablespoons real maple syrup, if needed
1 Tablespoon arrowroot powder
1/2 teaspoon ground nutmeg, or to taste
1 to 2 Tablespoons gold rum, optional
Pour 4 cups of eggnog in container of ice cream maker.
In a separate container or bowl, whisk together remaining 1/2 cup eggnog, maple syrup (if needed), arrowroot powder, and nutmeg. Add to ice cream maker and process according to manufactures instructions (about 25 to 30 minutes in my machine).
If using rum, add during last 10 to 15 minutes of processing.
Place in a freezer-safe container and freeze for several hours until firmed up, before serving.
Makes 1 1/2-Quarts.