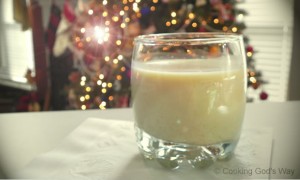 This eggnog is spiced "just right" and it's a delicious sugar-free treat…..there's no sugar in it and it still tastes great. You'll be wanting glass after glass of this creamy concoction. I know my kids sure love it!
If desired, and you are not on a sugar-free diet, you can omit the stevia and use about 1/3 cup of real maple syrup to sweeten instead.

Spiced Holiday Eggnog *
I'm not usually an eggnog fan, unless it's homemade. Thankfully eggnog is pretty easy to make. Though, be sure to make extra because everyone will love it!
Recipe type:
Holidays, Beverage
Ingredients
6 large eggs
⅛ teaspoon Pure Stevia Powder, or more to taste OR Real Maple Syrup, to taste
¼ (slightly rounded) teaspoon unrefined sea salt
5 cups whole milk (preferably farm-fresh, see RealMilk.com)
1½ cups heavy cream (preferably farm-fresh *see note*)
dash (1/8 tsp.) cinnamon
dash (1/8 tsp.) nutmeg, plus more for sprinkling each serving
pinch (1/16 tsp.) ground cloves
1 Tablespoon four-fold (extra-strength) vanilla extract OR 2 Tablespoons regular vanilla extract
Instructions
In large heavy saucepan, with a wire whisk combine the eggs and salt until blended. Add in the cream and whisk in to combine. Cook over low-medium heat, stirring constantly, until the mixture thickens and coats the back of a spoon (about 15 to 20 minutes). Mixture should reach 160 degrees, don't cook too fast or let it boil, or the eggs will curdle.
Remove from heat and add in the stevia, followed by other sweeteners (if using) and stir to combine. Allow mixture to cool slightly, stirring occasionally.
Strain the mixture into a large container of your choice (big enough to hold ½ gallon). Whisk in the vanilla extract. Using a funnel, if needed, add in the milk. Stir or shake contents (make sure lid is tight) to combine. Refrigerate covered container until chilled, about 2 to 3 hours.
Serve cold with a sprinkling of ground nutmeg on top.
Notes
Makes ½-gallon (2-quarts).

Note: Farm Fresh Milk and Cream are best. If you cannot find farm-fresh cream you may substitute store-bought cream (preferrably NOT ultra-pasteurized). You may also omit the cream, and use all milk, for a slightly less creamy eggnog.
*Sugar-Free / Grain-Free

Email To A Friend