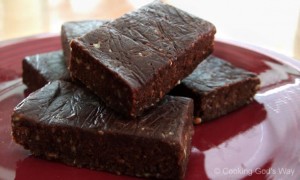 These little snack bars are made of all-natural ingredients with no sugar added. They taste amazingly similar to chocolate fudge and are quite satisfying. These date bars make for a great snack when you're on the go. With how naturally sweet they are, you could definitely have them as an after-dinner treat as well.
In the bowl of a food processor, add the nuts and process until broken up. Add the dates and process a few short pulses, until slightly chopped. Add the remaining ingredients and process until the mixture comes together and the pieces of nuts are quite small (it may form a ball on one side of food processor).
Line a 9×5-inch loaf pan with plastic wrap, being sure it comes up the sides. Turn the date mixture out into the pan. Press down, to flatten and spread the mixture out into a smooth, even layer. (If the mixture is too sticky, try covering the mixture with the plastic wrap and press down.) Wrap the plastic wrap around the flattened mixture and refrigerate for several hours or overnight to set.
Once set, lift the mixture out of the pan and slice into desired number of bars.
Makes 6 to 12 bars (depending on size).