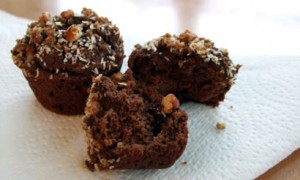 These chocolate muffins are made with coconut flour, which is very nutritious. Coconut flour is made from the meat of the coconut, so it has a slightly sweet taste already……meaning you can use less sugar in your recipes. The muffins are light and fluffy in texture and loaded with chocolaty flavor…….and with the coconut-pecan topping, they remind you of a german chocolate cake except with out all the super-sugary icing.
Preheat oven to 375F. Grease mini muffin cups generously with coconut oil, set aside.
Prepare the topping for the muffins: In a small bowl, mix together the 2 Tbsp. muscovado sugar, 2 Tbsp. coconut, and 2 Tbsp. chopped pecans. Set this mixture aside for later.
Sift coconut flour, cocoa, baking soda, and salt into a bowl, set aside.
Cream the butter/coconut oil, stevia baking blend, and 1/4 cup muscovado sugar in a large bowl with an electric mixer. Beat until light and fluffy, about 1 minute. Add in eggs, one at a time and beat after each addition. Scrape down the bowl in-between, if needed.
On low speed, mix in the vanilla, applesauce, and yogurt until just combined. Still using low speed, mix in half the cocoa mixture, scrape the bowl down and mix in the remaining cocoa mixture. The batter will be quite thick.
Fill prepared mini-muffin cups about 2/3 of the way (almost full) with batter. Smooth the top of the batter inside the muffin cup with a small spoon. Sprinkle about 1/2 teaspoon of the coconut-pecan-sugar topping on tops of the muffins.
Bake for 12 to 14 minutes, or until risen and firm to the touch (a toothpick inserted into the center of each muffin will come out mostly clean). Let muffins cool in pan for 2 minutes, then remove to a cooling rack. Eat warm or cooled.
Note: When making the second batch of muffins (as you probably won't have a pan big enough to hold all 30 at once), fill any empty muffin tins about half way with water to prevent burning. Being careful not to get any water into the tins with your batter.
Makes 2 1/2 dozen (30) Mini-muffins.