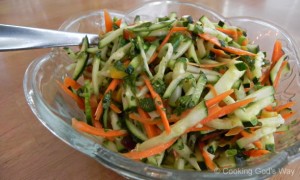 This slaw is quick and easy to make and utilizes fresh zucchini. The zucchini really soaks up the flavors in the simple dressing of this side dish, making it the perfect accompaniment with anything from grilled meats to tacos, burritos and more.
1 medium zucchini, julienned
1 carrot, peeled and julienned
1 to 2 teaspoons fresh jalapeno, minced
1/2 of a small bell pepper, finely chopped
2 Tablespoons fresh cilantro, minced
2 Tablespoons extra virgin olive oil
1/2 of a lemon juiced and zested
OR 1 small lime juiced and zested
1 teaspoon mustard
1 teaspoon honey
OR 5 drops liquid stevia
1/4 teaspoon dried oregano
unrefined sea salt and black pepper, to taste
In a medium-sized bowl, toss together julienned zucchini, carrot, jalapeno, bell pepper, and cilantro – set aside.
In another bowl, whisk together olive oil, lemon juice and zest, mustard, and honey. Whisk vigorously for a few seconds, until ingredients are well incorporated and mixture does not separate.
Gently whisk in oregano and season to taste with salt and pepper.
Pour oil mixture over top of vegetables. Gently toss to coat.
Cover and place in the fridge for at least an hour, or more, for flavors to develop.
Makes 4 small side-dish servings.