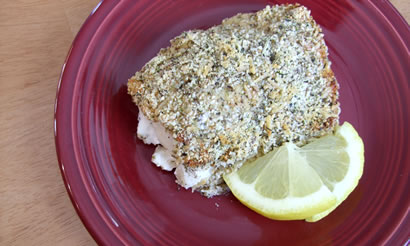 This fish recipe is great when you want that breaded fish taste, but don't feel like the mess that comes with frying. The fillets taste delicious when prepared this way, and have a great texture from the almond meal. This recipe is suitable for many different kinds of white fish, though cooking times will vary slightly.
4 Alaskan or Pacific Cod Fillets
1/4 cup homemade mayonnaise
OR Vegenaise® made with Grapeseed Oil
1 Tablespoon lemon juice
1/4 teaspoon unrefined sea salt
1/8 teaspoon (dash) black pepper
1/2 cup almond meal
3 Tablespoons Romano cheese, grated (or Parmesan)
1 Tablespoon dried Italian Seasoning
fresh lemon, cut in wedges, for garnish
Preheat oven to 400°F. Grease the bottom of a baking pan or sheet with coconut oil. In a small bowl mix together the mayonnaise, lemon juice, salt, and pepper until thoroughly combined. In another small bowl, mix together the almond meal, cheese, and Italian seasoning.
Pat dry the fish fillets. Place fillets in prepared, greased pan. Working one fillet at a time, pour a spoonful of the mayonnaise mixture over the fish, add more if necessary, making sure to coat the top of the fillet completely. Immediately cover the mayonnaise with a heaping spoonful of almond meal mixture, and pat down lightly. Add a little more almond mixture if needed to coat the top of the fish. Repeat with the remaining fish fillets. Depending on the size of the fillets, you may have some mayonnaise and/or almond mixture left over…that's okay.
Bake for 15 to 20 minutes or until fish is cooked through, flakes easily with a fork. If the tops did not brown enough to your liking, you may place the baking pan under the broiler for a few minutes. Just keep an eye on the fillets as the crumbs could burn quickly if you turn your back on them.
Serve immediately, with lemon wedges for garnish if desired.
Serves 4.
*Sugar-Free/Grain-Free

Email To A Friend

Print This Page