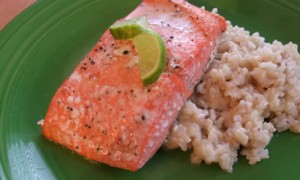 This is my favorite way to serve salmon. The kids really like it too. If you are able, not on a sugar-free / grain-free diet, definitely serve this over some brown basmati rice…Mmmmmmm!
4 small Alaskan Salmon fillets
unrefined sea salt and black pepper
1/2 cup butter (1 stick)
2 Tablespoons key lime juice (the juice of about 6 key limes)
Preheat oven to 350°F.
Line a baking sheet with aluminum foil. Place salmon fillets on baking sheet, skin side down, and season with salt and pepper. Bake for 15 to 20 minutes, or until cooked through (fish should flake easily with a fork). While the fish is baking, move on to the next step.
Meanwhile, melt the butter in a small saucepan on the stove. Add key lime juice and sir until combined.
To serve, place the salmon fillets on individual plates and drizzle generously with the key lime butter. If you are serving this with rice, be sure to drizzle the rice as well.
Serves 4.
*Sugar-Free / Grain-Free

Email To A Friend

Print This Page