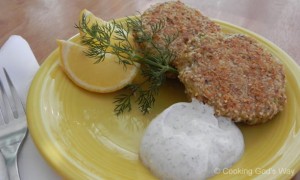 These salmon cakes make a wonderful lunch or dinner meal, especially served with a generous side salad with plenty of lemons and/or the Lemon-Pepper Dipping Sauce (see recipe below). They're easily baked in the oven, with no greasy skillets to clean up afterward. Kids really love them too!
3 cans (6 oz. each) Wild Alaskan Salmon, well drained
1/2 cup almond meal (preferably homemade), divided
1/2 cup shredded coconut, divided
2 Tablespoons finely minced onion
2 Tablespoons finely minced celery OR red bell pepper
1/2 teaspoon dried dill weed
1 teaspoon homemade old bay seasoning
1/2 teaspoon Lemon-Pepper Seasoning Blend
unrefined sea salt, to taste
2 Tablespoons olive oil or coconut oil (melted)
2 large eggs, beaten
1 or 2 fresh lemons, cut into wedges
Lemon Pepper Dipping Sauce (see recipe below)
Preheat oven to 425F. Have an ungreased metal baking sheet ready.
In a small bowl combine together 1/4-cup of the shredded coconut and 1/4-cup of the almond meal, set this aside.
Drain salmon well, flake into a medium-sized bowl. Add in remaining coconut and almond meal, minced onion and celery, and all of the spices. Stir to combine. Add in the oil and eggs, mixing together until thoroughly moistened.
Scoop salmon mixture into a 1/3-cup measuring cup, and using clean hands shape into small patties. Coat each side of patty into reserved almond-coconut mixture. Place patties onto baking sheet.
Bake in preheated oven for about 12 minutes, gently flip patties over and continue to cook for 3 to 5 minutes more. Serve with side(s) of choice and some lemon wedges for squeezing over top of salmon patties.
Serves 4 to 6 (about 8 patties).
* Sugar-Free / Grain-Free
Lemon-Pepper Dipping Sauce *

This dip is great with any fish or chicken entree.

1/2 cup sour cream (yogurt would be good as well, or a combination)
1 teaspoon lemon juice
1/2 to 1 teaspoon Lemon-Pepper Seasoning Blend, to taste
1/4 teaspoon dried dill weed
unrefined sea salt, to taste

Combine all ingredients in a small bowl. Place in fridge for at least 30 minutes to let flavors develop, before serving.

* Sugar-Free / Grain-Free

Email To A Friend

Print This Page