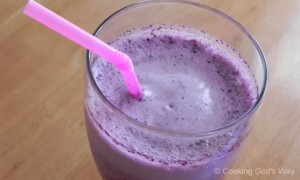 This smoothie is full of antioxidant power-packed blueberries, kissed with the essence of orange, and just a hint of vanilla. Feel to use your favorite add-ins or some of the suggestions below to give an extra boost of energy to your shake.

3/4 cup raw whole milk
3/4 cup filtered water
15 to 20 drops Pure Liquid™ Clear Stevia™, or more to taste (or other brand of stevia liquid, to taste)
1 cup frozen organic blueberries
1 teaspoon pure orange extract
1/2 teaspoon vanilla extract
6 to 8 ice cubes
Optional Add-Ins: (you can find all these at Mountain Rose Herbs)

– ground flax seed
– spirulina powder
– beet powder
– orange peel powder (for added vitamin C)
Place all ingredients in your blender, or Vita-Mix, along with any add-ins (if using). Process until blended smooth. Enjoy

Serves 2.
*Sugar-Free / Grain-Free