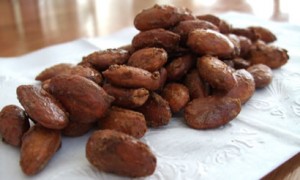 These candied cinnamon almonds are similar to the ones you get at the mall/busy-city street corner/fair. They are a wonderful treat you can feel good about eating, made with unrefined sweeteners and soaked/dried raw almonds. Serve them warm or completely cooled.
Preheat oven to 250F. Line a large baking sheet with parchment paper (or grease baking sheet instead), set aside.
In a medium bowl, beat egg white and salt together with a wire whisk until nice and frothy.  Whisk in the vanilla, rapadura (or sucanat), and cinnamon. Fold in the almonds until well coated.
Spread coated almonds on prepared baking sheet. Bake in preheated oven for about 1 hour, maybe a few minutes more. Almonds will still be slightly sticky when done, but the glaze will harden as they cool.
Remove from oven; immediately move the nuts off of the baking sheet and onto a fresh sheet of parchment, breaking up the nuts while doing this. The glaze hardens fairly fast, so you must be quick.
Serve the nuts warm or completely cooled.
Makes 3-cups candied almonds.