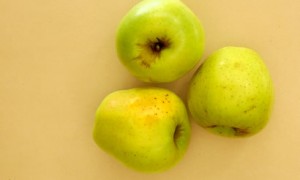 This applesauce is so delicious, better than any applesauce that you'd buy at the store. It makes a great little dessert all by itself……you might want to make a double batch and freeze some for later. Eat it as-is cold or warm. Serve it as a topping for ice cream or yogurt; or bake with it, it makes cakes and muffins incredibly moist.
2 pounds of Granny Smith apples, about 4 large apples (washed, cored and chopped into large chunks – sometimes I leave the skin on my apples)
1/2 cup filtered water
1 1/2 teaspoons lemon juice
1/4 teaspoon sea salt
Pinch (1/16 teaspoon) NuNaturals NuStevia™ White Stevia™ Powder (or other stevia added to taste after cooking)
1/2 to 1 teaspoon ground cinnamon, to taste (I like cinnamon, so I use 1 tsp.)
In a medium saucepan add the water, lemon juice, salt, stevia, and cinnamon. Stir together over medium heat until everything is dissolved, using a small whisk or a fork may help to break up any lumps.
Add the chopped apples to the pan and stir so all apple pieces are covered with the cinnamon mixture. Let the sauce come to a boil, then reduce heat to low, cover, and let simmer for 20 to 30 minutes or until apples are soft and start to fall apart. Remove from heat.
Pour everything from the saucepan into a food processor and process until smooth. Store in the refrigerator; or freeze, tightly sealed, in freezer for up to one year.
For a Chunkier Applesauce: Peel the skin off the apples before cooking. You can then skip the food processor and mash the cooked apples with a potato masher to your desired consistency.
Makes 2 to 3 cups of sauce.
*Sugar-Free/Grain-Free

Email To A Friend

Print This Page