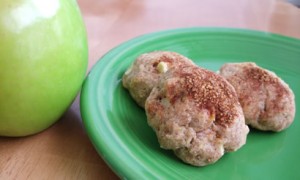 These little bite-sized scones are lightly sweetened with honey and stevia, full of diced bits of apple, and topped with cinnamon. Bring these little bites to a brunch or party, they are sure to be a hit. The scones benefit from and overnight soaking, which in-turn will benefit you and your family's health. To read more about soaking grains, read this article or get a copy of Nourishing Traditions: The Cookbook that Challenges Politically Correct Nutrition and the Diet Dictocrats
by Sally Fallon (you can find this book in our store).
2 cups whole spelt flour
1/2 cup butter or coconut oil, cold and firm (I place my coconut oil in the refrigerator, after i measure it out, to get cold)
1/2 cup rolled oats
1/2 cup buttermilk (or 1 Tbsp. lemon juice plus enough raw milk to equal 1/2 cup)
2 Tablespoons raw honey
1/8 teaspoon (dash) of NuNaturals NuStevia™ White Stevia™ Powder
1/2 teaspoon salt
1 teaspoon cinnamon
1 teaspoon vanilla extract
1 egg
2 teaspoons baking powder
1/2 cup finely diced Granny Smith Apple (about 1/2 of a large apple)
Cinnamon-Maple Sugar – for dusting tops before baking (optional)
Mix together 1 Tablespoon maple sugar and 1 teaspoon cinnamon (you can use rapadura sugar if you can't get maple sugar)
In a large bowl, cut the butter/coconut oil into the spelt flour until it resembles coarse crumbs. Mix in the oats and buttermilk. Cover and let soak overnight.
The next day, or after about 12 hours of soaking, when you are ready to bake the scones, preheat oven to 400F. Line a large baking sheet with parchment paper.
To the bowl of soaking scone dough, add the honey, stevia powder, salt, cinnamon, vanilla, egg, and baking powder. Stir to combine, you may want to use your hands at some point to get all of the ingredients mixed in. Gently fold in the diced apple, by hand. Put the bowl of dough into the refrigerator for a few minutes, this will slightly chill the dough, firming it up a bit.
Scoop the dough into 1 Tablespoon-sized balls, dip the top into the Cinnamon-Maple Sugar, and place on the prepared baking sheet. Bake for 10 to 12 minutes, or until cooked all the way through. These scones are best served shortly after baking, while still slightly warm.
Makes 3 dozen mini scones.