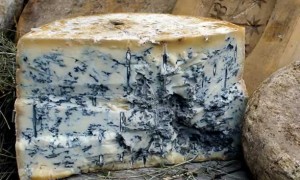 Blue cheese is by far my son's favorite cheese. So he was delighted when I made this blue cheese dressing the other night to go with dinner. And needless to say, he devoured the meal 🙂 (that explains the lack of photo of the actual dressing – will try to get one next time)

Is this dressing really that good? Well to be honest, I have to say YES! It's rich, smooth, and creamy with that delicious blue cheese flavor. Serve this dressing over steak, salad, burgers, etc. The options are endless… Blue Cheese Cole Slaw anyone?
3/4 cup blue cheese crumbles (about 4 oz.)
1/4 cup raw whole milk
1/4 cup sour cream
3 Tablespoons homemade mayonnaise
2 teaspoons lemon juice
2 teaspoons rice vinegar (

NOT

"seasoned rice wine vinegar")
OR apple cider vinegar to taste
1/8 teaspoon garlic powder
unrefined sea salt and black pepper, to taste
1 to 2 drops NuNaturals Pure Liquid™ Clear Stevia™, optional
In medium bowl, mix the blue cheese with the raw milk. Using a fork, gently mash the cheese into the milk until mixture is thick and creamy but some cheese crumbles still remain.
Whisk, or stir, in the remaining ingredients to combine – seasoning with salt and pepper to taste.
Place in fridge for at least 30 minutes (if possible) to allow the flavors to meld before serving.
Makes about 1 1/4-cup.
*Sugar-Free / Grain-Free

Email To A Friend

Print This Page