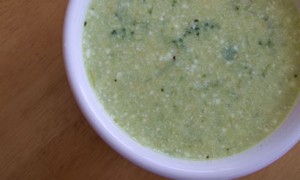 Broccoli is rich in many vitamins, like C, A, and K; so what better way to get a healthy dose than with a bowl of this creamy broccoli soup? This soup will please even the most picky of eaters. When not on a sugar-free diet, you may add in 1/2 cup diced carrots when sauteing the onion & celery.
1 Tablespoon virgin coconut oil
1 cup onion, chopped
1/2 cup celery, chopped
1/2 teaspoon dry mustard
1 teaspoon garlic, minced
1 quart chicken broth
2 cups milk
1/4 teaspoon dried thyme
pinch cayenne pepper
1 pound frozen broccoli florets, thawed and cut into 1-inch pieces
1 Tablespoon arrowroot powder (dissolved in 1 Tablespoon cool water)
2 cups shredded sharp white cheddar cheese
1 cup sour cream
salt to taste
In an 8-quart saucepan heat the coconut oil over medium-high heat. Saute the onion and celery, stirring often, until softened (about 5 minutes).
Reduce heat to medium, stir in the dry mustard and garlic; cook for 1 or 2 minutes more. Add in the chicken broth, milk, thyme, cayenne, and broccoli pieces; bring to a boil. Cover, reduce heat and simmer for 10 minutes.
Stir in the arrowroot (that has been dissolved in 1 Tablespoon cool water) and cook over medium heat until slightly thickened.
Transfer 2 cups of the soup to a blender and puree. Carefully pour the pureed soup back into the pan. Stir in the cheddar cheese and sour cream and cook until heated through, stirring until combined. Season to taste with salt.
Makes 6 to 8 servings.
*Sugar-Free / Grain-Free

Email To A Friend

Print This Page