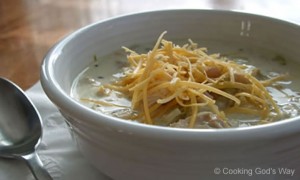 This chili is different from your everyday chili recipe for sure. But it is so good, you will be putting it on your list to make again and again. Everyone from kids to adults will love this dish and ask for more. And the great thing is that it is quick & easy to prepare.
For an extra richness and creaminess add the heavy cream as called for in this recipe….otherwise feel free to leave it out.
1 pound boneless, skinless chicken breasts, cut into 1/2-in cubes
OR 2 to 3 cups leftover, cooked, chicken or turkey meat, chopped into bite-sized pieces
1 medium onion, chopped
2 small stalks celery. finely diced
1 teaspoon garlic powder
2 Tablespoons coconut oil
2 cans (15 ounces each) great northern beans, rinsed and drained
OR 1 cup dried beans that have been previously soaked and cooked, for a total of 3 cups cooked beans
1 quart chicken broth
2 cans (4 ounces each) chopped green chilies
1 teaspoon ground cumin
1 teaspoon dried mexican oregano
OR regular oregano
1/4 teaspoon white pepper
1/8 teaspoon cayenne pepper, or more to taste
unrefined sea salt, to taste
1 cup sour cream
1/2 cup raw cream
OR store-bought heavy cream,

not

ultra-pasteurized
shredded cheddar cheese, for garnishing (optional)
Heat coconut oil in a large 4-quart saucepan over medium-high heat. Saute the chicken, onion, celery, and garlic powder until chicken is no longer pink (if using leftover, already cooked meat, add it in the next step with the beans).
Add the beans, broth, chilies, cumin, oregano, white pepper, and cayenne pepper; bring to a boil. Reduce heat and simmer, uncovered, for 30 minutes. Turn off heat, but leave pan on the burner.
Stir in sour cream and heavy cream (if using). Season with sea salt, to taste. Serve immediately.
Garnish with some organic shredded cheddar cheese, if desired.
Serves 6 to 8.
*Sugar-Free / Grain-Free

Email To A Friend

Print This Page