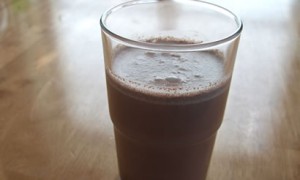 This chocolate milk is truly healthy for you, unlike the sugar-laden kind you would buy at the store. It's something you can really feel good about giving your kids…and yourself too 😉 Mixing in the cocoa powder is a breeze with a stick blender
(a.k.a. immersion blender). You can double, triple, or quadruple this recipe easily as needed; just be sure to always use half the amount of total milk to mix the cocoa in, and use a larger container as well to avoid splatter. If you are not on a sugar-restricted diet, you can use some real maple syrup to sweeten instead of the stevia.
Measure half of the milk into a large, glass measuring cup or other large container (make sure your stick blender fits inside and has plenty of room).
Add the cocoa powder and insert stick blender, pulsing in very quick short bursts until combined.
Stir in, by hand, the other half of the milk.
Add a few drops of stevia and stir to combine…add more stevia as necessary to taste.
Serves 1
*Sugar-Free / Grain-Free
NOTE: If you don't have a stick blender, you can always use a regular blender if needed. Follow the instructions as stated above, using your blender instead.

Email To A Friend

Print This Page