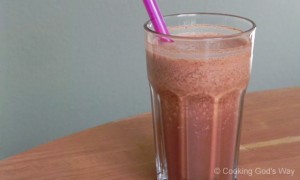 This shake is a delicious, nutritious treat that is really enjoyed by everyone in our household. The kid's love it and always ask for more! The shake gets its "malted" flavor, naturally, from Mesquite Powder. If you've never tried mesquite powder, you're in for a real treat ;). You can read more about mesquite powder in the article "Mesquite Powder the Secret Ingredient".

2 cups raw whole milk or plain kefir
OR 1 cup full fat coconut milk + 1 cup water
4 Tbsp. chia seed gel (for a boost of omega-3's), optional
1 large ripe banana (for a creamy chocolate-banana flavor), optional
4 Tablespoons unsweetened cocoa powder
2 Tablespoons mesquite powder
30 to 40 drops Vanilla stevia, or to taste
OR 1 teaspoon vanilla extract + 30 to 40 drops of plain stevia, to taste (you could also sub. honey or maple syrup to taste)
2 cups ice cubes
Place all ingredients in blender, in the order listed. Process until smooth and creamy. Pour into individual glasses and serve immediately.
Drink with a smile 😀 …and enjoy!
Serves 2 to 3.