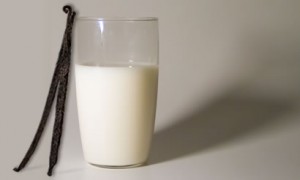 This drink is as simple as it gets……..and tastes absolutely refreshing anytime of day or night! It is an easy way to use those empty vanilla bean pods that you scraped the seeds out of for another recipe. If you want to make this milk drink and don't have any empty vanilla bean pod, you may cut a fresh vanilla bean in half 'length-wise' and throw one half of it in the milk, seeds and all. Need a source of premium organic vanilla beans at a great price? Check out The Organic Vanilla Bean Company, it's where I get all of my beans….and I love them!
Pour the milk into a 1 quart-sized glass pitcher.
Add the whole-split 'empty' vanilla bean pod OR the half-fresh vanilla bean pod to the milk, whichever using.
Give a gentle stir, cover the pitcher with plastic wrap and refrigerate for 24 hours before drinking to let the flavor develop completely.
Stir well before pouring into a glass to serve. If desired you made add a few drops of the liquid stevia to each glass, then stir and serve.
Serves 4.
*Sugar-Free / Grain-Free
Other Sweetening Option: If you are not on the healing diet or some other sugar restricted diet, you may add 2 to 3 Tablespoons of pure organic maple syrup to the pitcher of milk; or add it to each individual glass to sweeten (1 1/2 teaspoons per glass).

Email To A Friend

Print This Page