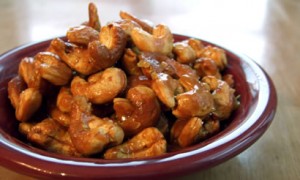 Did you know cashews are a good source of monounsaturated fat and protein? They are high in numerous vitamins and minerals and when consumed can help us avoid many health issues. In fact two handfuls of cashews have the same therapeutic value as a dose of Prozac, which you can read more about in our article: Cashews, Depression, & Other Health Disorders. These honey-roasted cashews are made with all natural healthy ingredients, including raw honey. They are super easy to make and taste wonderful….you won't want to stop eating them.

Honey-Roasted Cashews
Ingredients
1 pound raw cashews
¼ cup raw honey
1 Tablespoon butter or coconut oil
1 teaspoon sea salt
Extra sugar (rapadura) or sea salt for sprinkling nuts after baking, as desired (this is optional, I use the salt because I like the combo of the sweet/salty flavor)
Instructions
Preheat oven to 250F. Line a large baking sheet (or two smaller ones) with parchment paper, set aside.
Measure out the honey, butter, and sea salt into a glass measuring cup; set aside.
In a small saucepan, one big enough that the glass measuring cup will fit into, bring a small amount of water (just an inch or two) to a simmer. Place the glass measuring cup, filled with the honey-butter-salt, inside the pan of simmering water. Keep the heat on low, and stir until the honey and butter are thoroughly melted.
Remove melted honey-butter from the pan of water. Mix the honey-butter mixture and the cashews together until thoroughly coated. Turn the coated nuts out onto the prepared baking sheet(s).
Bake in preheated oven for 1 hour, stirring several times in-between. The nuts will be a deep golden color and still slightly sticky. Remove from oven, give a stir to break up any clumps, sprinkle with any extra sugar or salt as desired, and stir once more.
Let cool completely on parchment-covered baking sheet.
Notes
Makes 1-pound of nuts.