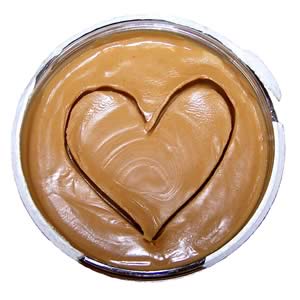 The peanut is the only roasted nut(s) I will eat, and I usually only do so in peanut butter form (see Healthy Foods Gone Bad – Part 2 for more info on why). This homemade peanut butter is easy to make and tastes soooo delicious… not to mention it's quite frugal and economical 🙂 Who doesn't like to save money?!
Valencia peanuts are small in size but big on flavor. They are the sweetest tasting of all peanuts. Valencia peanuts are grown mainly in the dry soil of New Mexico where aflatoxin is not a concern. Aflatoxin is a carcinogen that has been shown to cause liver cancer in rats (read more about aflatoxins in peanuts here and here).
4 cups shelled, Raw Valencia Peanuts
4 Tablespoons expeller-pressed Sunflower oil OR virgin Coconut oil * see note below *
1/4 to 1/2 teaspoon unrefined sea salt, or to taste
If you prefer, you may first soak & dry the peanuts, before roasting. This will make the peanut butter more easily digestible.
Roast peanuts in a 350F oven for 10 to 15 minutes, stirring occasionally (about 2 to 3 times). Peanuts should be light golden in color, not to brown or burnt.
Allow peanuts to cool. Rub peanuts between your fingers to remove most of the red skin. Some red skin left behind is OK.
Place peanuts in container of a food processor. Process for about 30 seconds, until a coarse meal. Scrape down the bowl of the food processor. Process again for about 30 more seconds, until the peanut meal starts to clump (hold) together.
Add oil 1 Tablespoon at a time, and process until desired consistency (2 to 3 minutes, or more). Add salt and process until mixed in.
Store peanut butter in the fridge for the freshest, longest lasting peanut butter.
Note: To make "crunchy" peanut butter – After the peanut butter is processed to desired consistency and you have add/mixed in salt to taste, add 1/2 cup peanuts to the food processor and process for just a few seconds to chop and mix in the peanuts.
Makes about 3-cups.
*Sugar-Free / Grain-Free
* Using coconut oil in this peanut butter gives a nice flavor, but keep in mind it will have a much firmer texture straight out of the fridge. *