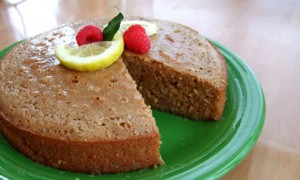 This lemon cake is simple enough to serve as an ordinary weeknight dessert, but extravagant enough to serve at a party or special event. The honey-lemon glaze really makes this cake just come alive with lemony flavor. Spelt is used in this cake to give it that whole-grain goodness, while making for a moist, dense, and rich cake. Serve this cake with fresh raspberries or sliced fresh strawberries for a delightful treat. And don't forget a cup of tea!
2 cups whole spelt flour
1/2 cup plain whole yogurt
1/4 cup lemon juice
1/4 cup milk
1/2 cup (1 stick) butter, softened
1/3 cup rapadura sugar
1/8 teaspoon NuNaturals NuStevia™ White Stevia™ Powder
4 large eggs
1 teaspoon vanilla extract
1 Tablespoon lemon zest (from 1 large lemon – reserve the lemon for making the glaze)
1/2 teaspoon lemon extract (optional – if not using, just add a little more lemon zest)
1/4 teaspoon unrefined sea salt
2 teaspoons baking powder
fresh raspberries or strawberries, for garnish
1 recipe Honey-Lemon Glaze (see recipe below)
The night before you plan to make the cake (about 12 hours before): In a medium bowl, mix together the first four ingredients (the spelt flour, yogurt, lemon juice, and milk), until a moist ball of dough forms. Cover bowl and let sit overnight, about 12 hours.
Day of baking the cake (12 hours later): Preheat oven to 350F. Grease the bottom and sides of an 8-inch round cake pan (you can use a square pan if you would like). Line the bottom of the pan with a piece of parchment paper and grease it also.
In a medium bowl, cream the butter, sugar, and stevia powder with an electric mixer until light and fluffy (about 3 minutes). Add the eggs one at a time, mixing well after each addition. Beat in the vanilla extract, lemon zest, lemon extract (if using), salt, and baking powder.
Immediately add the butter-sugar mixture to the bowl with the soaked flour. Fold in, by hand, with a spatula or spoon until just starting to come together. Finish off with a hand mixer on low speed, mixing only until everything is incorporated. Do not over-mix.
Pour the batter into the prepared pan and tap it gently on the counter to release any air bubbles. Bake for 30 to 35 minutes, or until a toothpick inserted in the center of the cake comes out clean. Cool on a wire rack, in the pan, for 10 minutes. Meanwhile, while the cake is cooling slightly, prepare the Honey-Lemon Glaze (see the recipe below).
After 10 minutes of cooling in the pan, run a thin knife around the edge of the cake to loosen. Remove the cake to a wire cooling rack and then immediately flip it onto a large plate or serving platter (whatever you want to serve the cake on), this way the rounded top-side of the cake is facing up. Using a toothpick, poke holes all over the top of the cake. Immediately, but slowly, pour the Honey-Lemon Glaze over top of the cake.
Serve the cake slightly warm or completely cooled, it is delicious both ways. Garnish each serving with fresh raspberries or sliced fresh strawberries.
Serves 8 generous slices (more if you cut smaller slices).
Honey-Lemon Glaze

juice of 1 large lemon (about 1/4 cup)
1/4 cup raw honey

Place lemon juice and honey in a 2-cup glass measuring cup.

Fill a small saucepan with a small amount of water and bring to a simmer.

Place the measuring cup filled with the lemon juice and honey into the simmering water. Stir until the honey melts into the lemon juice.

Keep the honey-lemon glaze slightly warm, until you are ready to use. Pour over the cake as instructed in the above recipe.

Makes enough glaze to cover an 8-inch or 9-inch cake.

Email To A Friend

Print This Page