News Flash, this just came across the Cooking God's Way table. Oct. 1st, 2010
Organic Food Products Need not be 100% Organic, says the USDA.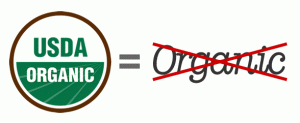 We have always thought that a product must contain all organic ingredients to carry the USDA Organic label, but not anymore according to the National Organic Standards Board. The board voted in April 2010 to allow "USDA Organic" labels to be used on the packaging of organic sausage made with non-organic casings. Since the non-organic casing represents such a small about of the product it is still allowed to meet the standard.
Where with the compromise end? I thought we were trying to avoid non-organic pesticide contaminated and  possibly GM products. Paying the extra money for the label was our insurance! Think twice.
It does not stop there…
Organic Beer can contain conventional hops and several other non-organic and synthetic ingredients. The excuse this time… because the organic ingredient is not commercially available, it may still use the "USDA Organic" seal. OK, so let me think about this. I want to produce a product that will be labeled "USDA Organic", but I can't find a supply of all the organic ingredients – no problem! An organic product does not have to contain all organic, good try is enough!
When do the comprises stop!
I don't know about you, but when I go the extra effort and spend the extra dollars, I expect to get a product that represents what it says it is. As long as the rules are allowed to be bent, product producers will take the cheaper way out and use conventional ingredients. Let your organic products producers know you want 100% organic products when labeled "USDA Organic".
Sources:
Organic Consumers Association
Capwiz – grassroots alerts