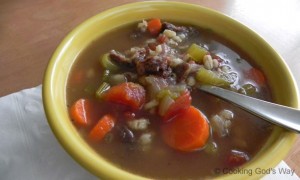 If you've never had oxtails, then you really should try them some time.
Oxtails come from a steer's tail, which is a well exercised muscle that is marbled with fat. The tail is broken up into segments, which are vertebrae so in-turn they are rich in marrow as well.
This soup is a delicious and easy way to use oxtails. They are usually inexpensive to buy, so this would make a great frugal supper.
3 pounds oxtails, separated into joints, rinsed and patted dry
8 cups beef broth (or chicken broth), preferably homemade
3/4 cup pearl barley (not quick-cooking), rinsed well
1 bay leaf
2 cloves garlic, minced
1 teaspoon dried thyme
1/2 teaspoon dried oregano
4 stalks celery, chopped
1 large onion, chopped
1 (14-ounce) can diced tomatoes with juice
4 carrots, sliced 1/4-inch thick
1 green bell pepper, chopped
Coconut oil
unrefined sea salt and black pepper, to taste
Very lightly oil a large Dutch oven with coconut oil. Heat over medium heat, brown oxtails on all sides. There should be some natural fat so a lot of additional oil is unnecessary. Remove oxtails and discard any remaining fat in pan.
Add broth and browned oxtails to pan. Bring to a boil, skimming off any frothy foam that comes to the surface.
Add barley, bay leaf, garlic, thyme, oregano, celery, onion, and canned tomatoes (with their juice). Bring back to a boil, cover, reduce heat to low and simmer for 30 minutes.
Add carrots and bell pepper, bring to a boil, cover, reduce heat to low and simmer for 30 minutes more – or until carrots, barley and meat are tender.
Remove oxtails from soup. Take the meat off the bones (discarding bones). Cut or shred the meat and return to soup.
Remove bay leaf, season to taste with salt and pepper.
Serves 8.