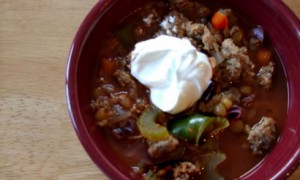 This soup is very hearty and filling. It is loaded with lots of good for you veggies…..feel free to change or add any other vegetables that you wish. And if you are on a sugar-free diet, just omit the carrots and use some red or yellow bell pepper instead.
1 pound grass-fed ground beef
1 can (15 ounces) tomato sauce
2 cups beef broth (you can use chicken broth, I did because that's all I had on hand and the soup turned out great)
2 cups water
1 cup dried lentils, rinsed
1/2 cup cabbage, chopped (red or green, I used red)
1/3 cup sliced carrots (if you are on the healing diet, just omit these and use some red or yellow bell pepper)
1/2 cup celery, sliced
1/2 cup onion, chopped
1/2 cup green pepper, chopped
1/4 teaspoon pepper
1 teaspoon unrefined sea salt
1/2 teaspoon dried thyme
1 bay leaf
sour cream, for garnish (optional)
In a large saucepan cook beef over medium heat until no longer pink; drain if needed. Add the tomato sauce, broth, water, lentils, cabbage, carrots, celery, onion, green pepper, pepper, salt, thyme, and bay leaf. Stir to combine.
Bring to a boil. Reduce heat and simmer covered, for 25 to 30 minutes, or until the lentils and vegetables are tender. Remove the bay leaf. Serve with a dollop of sour cream, if desired.
Serves 6 to 8.