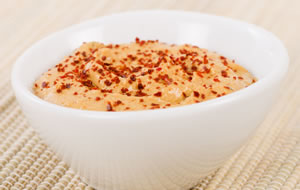 This sun-dried tomato hummus is very rich and very tasty. Though it takes a little more time to make……it is soooooo worth it! If you serve this at a party you will be sure to get plenty of compliments. It tastes far better than any pre-made store-bought hummus. Serve this hummus dip with plenty of raw vegetables, such as cucumber, carrots, celery and so on.

1 cup dried garbanzo beans (chickpeas), soaked overnight in plenty of water
2 ounces (about 1 cup) sun-dried tomatoes (not packed in oil), sulphur dioxide free
1/4 cup cooking liquid (reserved from the cooked beans)
3 Tablespoons extra-virgin olive oil
2 Tablespoons lemon juice
1/2 teaspoon garlic, minced
1 to 2 teaspoons paprika (or more to taste)
1/2 teaspoon sea salt
Drain the soaked beans and discard liquid. Rinse the beans well and place in a large pot along with the sun-dried tomatoes and a pinch of salt. Fill the pot with enough water to completely cover the beans and tomatoes. Bring to a boil over medium-high heat. Reduce heat to low and simmer until beans are cooked (very tender), about 1 1/2 hours.
Drain the beans/tomatoes, reserving some of the cooking liquid.
Place the cooked garbanzo beans/tomatoes in the container of a food processor, along with 1/4 cup of the cooking liquid and process until mixture is slightly chunky.
Add the rest of the ingredients and process until mixture is completely smooth and fluffy. Taste and if needed and extra salt and/or paprika to your liking.
This dip tastes best at room temperature. If not serving right away, store in an air-tight container in the refrigerator for up to 1 week (remove from refrigerator 30 minutes before serving). Serve with raw vegetables for dipping.
Makes 3 cups of dip.
*Sugar-Free / Grain-Free

Email To A Friend

Print This Page