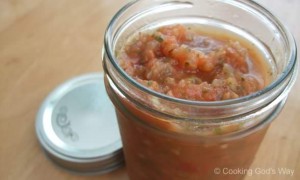 We love salsa in our family, especially this lacto-fermented salsa….and it's sooooo good for you 😀 We put it on everything from tacos and burritos to scrambled eggs. This salsa is about a medium heat level. You can adjust the heat and seasonings in this salsa to suit your tastes by adding more jalapenos and/or more ground cayenne pepper. When it's warm out, in the summer months, we sometimes like to roast everything on the grill to avoid using the oven.
2 pounds Roma tomatoes (about 8 to 10), sliced in half length-wise
4 large cloves garlic (

do not

peel)
1 medium onion (yellow or red), sliced into thick rings but not separated
2 jalapeno peppers, left whole
1 small bunch cilantro, or to taste
2 Tablespoons lemon or lime juice
1 teaspoon cumin
1/2 teaspoon mexican oregano
pinch (1/16 tsp.) ground cayenne pepper, or more to taste
1 Tablespoon unrefined sea salt, such as RealSalt or Himalayan Salt
4 Tablespoons whey (see how to obtain whey)
Other Items you will Need:
1-quart sized wide-mouth jar (preferably with air-lock lid)
Preheat broiler to 500F. Have ready a large heavy-duty baking sheet.
Gently smash cloves of garlic with the back of a spoon or drinking glass, leave skins on.
Place tomato halves on baking sheet (cut side up), along with the sliced onion, garlic cloves, and jalapeno peppers. Place baking sheet in oven, directly under broiler, checking on them every 5 minutes. Turn as needed, when tops are browned and/or bubbly. Brown both sides, removing any pieces as necessary when they are finished.
Place broiled peppers into a plastic zip-top bag and seal. Allow to steam for 5 minutes. When done steaming; peel off the skin and remove stem, seeds, and membrane. Meanwhile mince all the vegetables (be sure to peel garlic first) to desired size*.
*NOTE: If you have a food processor, mincing the vegetables is very easy and quick to do. Just pulse all ingredients, individually in the food processor. It is important NOT to mince them all at once, or you will end up with half the ingredients turned into a puree before the other half gets to the size you want.
As you mince each ingredient (tomatoes, garlic, onion, peppers, cilantro) add it to a medium mixing bowl. When everything is minced and added to the bowl, add the lemon (or lime) juice, cumin, and oregano; stir gently to combine. Stir in the whey and sea salt. Taste and add ground cayenne pepper as desired.
Pour salsa mixture into a 1-quart sized wide-mouth jar. (Always remember to leave 1-inch of space from the top of the jar to allow for expansion.)
Place lid (preferably air-lock lid) on the jar tightly. If using air-lock fill with water according to instructions. Allow to ferment, at room temperature, for 2 days.
Remove air-lock lid, if using, and replace with storage lid — transfer to cold storage.
Makes 1-quart.
*Sugar-Free / Grain-Free