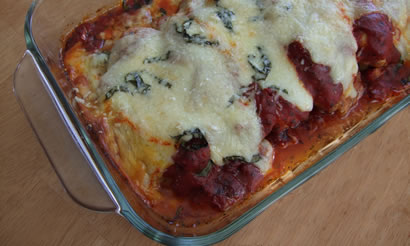 I love Chicken Parmesan, and this version is no exception. The addition of the sun-dried tomatoes are so rich and satisfying…they really liven up the flavor and make it pop.
1 pound boneless, skinless chicken breast
1 can (15 ounce) tomato sauce
1/3 cup sun-dried tomatoes (not in oil), coarsely chopped with kitchen shears
1 Tablespoon extra-virgin olive oil
unrefined sea salt & black pepper
1 clove garlic, minced
3 teaspoons dried basil, divided
2/3 cup buttermilk, or raw whole milk
1/2 cup garbanzo bean flour
1/2 cup almond meal
1/4 cup parmesan cheese, grated
1/4 pound fresh mozzarella cheese, sliced 1/4" thick
coconut oil, for frying chicken and greasing pan
Preheat oven to 350 F. Grease an 11×7 glass baking dish with coconut oil.
In a small sauce pan on the stove add the following: tomato sauce, sun-dried tomatoes, olive oil, salt and pepper to taste, minced garlic, and 2 tsp. dried basil. Heat over Medium heat until almost boiling; reduce heat to very Low and simmer for 30 minutes, until sun-dried tomatoes are plump and sauce gets thicker.
While the sauce is simmering, prepare the chicken. Using the smooth side of a meat mallet, pound the chicken breasts to 1/4" thickness. In a shallow dish add the buttermilk (or milk); in another dish add the garbanzo bean flour, almond meal, parmesan cheese, pinch of salt and pepper, and 1 tsp of dried basil. Stir the flour mixture with a wire whisk or fork to combine.
Heat enough coconut oil in a large skillet to come about 1/4" up the pan; heat over Medium to Medium-High heat, adjusting heat when necessary so oil doesn't get too hot. Dip the chicken breast, one at a time first in the buttermilk (or milk), then in the flour mixture, coating both sides of the chicken breast evenly with the flour mixture. Add chicken breast to the hot oil and cook for 1-2 minutes each side. Do this with all the chicken breast, adding them to the prepared baking dish after done cooking in the oil. Some over-lapping of the chicken breasts' is okay.
When all chicken has been fried in the oil and added to the baking dish, pour the tomato sauce over top of all the chicken. Place the sliced mozzarella on top the the sauce-covered chicken. Bake for 30 minutes at 350, cheese should be melted and just about bubbly. (If desired, for an extra-special touch, sprinkle a little parmesan cheese and/or some chopped parsley on top during the last 5 minutes of baking.)
Let the chicken rest after coming out of the oven for about 10 minutes, the cheese will be very hot. Serve with your favorite vegetable and/or salad on the side.
Serves 4 to 6.
*Sugar-Free / Grain-Free

Email To A Friend

Print This Page