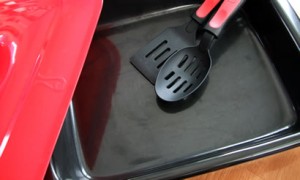 Are your baking pans leaching metals and/or chemicals into the homemade treats you make for your kids? Take a look at a healthy bakeware option by Ceramcor. It's non-toxic, non-leaching, naturally non-stick, and a dream to bake with…
This healthy bakeware, Xtrema™ Ceramic Bakeware by Ceramcor, is a healthy alternative to all of your aluminum and non-stick coated baking pans. The bakeware is recommended by Dr. Mercola.
Purchase Xtrema™ Ceramic Bakeware
at Ceramcor.com
You may have heard about non-stick coated pans and that they are harmful to our health, due to the leaching of chemicals in the food we make. Metal bakeware, even stainless-steel can leach metals into our foods. For more information on this, see the Xtrema™ Product Testing Page which explains the leaching of stainless-steel and how it is made (non-green).
If you haven't already done so, check out the previous review on Xtrema's Ceramic Cookware which goes into more detail.
Features & Benefits of Xtrema™ Ceramic Bakeware
These are the features and benefits of Xtrema™ Ceramic Cookware/Bakeware as stated on their website:
Xtreme High Temperature: Cookware can withstand 2,700 F, Steel can melt at 2,200 F
Xtremely Easy to Clean: Non-Scratch, Non-Toxic Ceramic Glaze Surface
Xtremely Attractive: High Gloss Black Finish
Xtremely Versatile: Oven, Stovetop, Broiler, Freezer, Barbeque Grill, Microwave Oven, Dishwasher and Dining Room Table
Xtremely Healthy Cooking: No Trace Metals or Chemicals Leaching from the Cooking Surface
Xtremely Practical: Reduces Cooking Time and Uses Less Energy, Foods Stay Hotter Longer
Xtremely Tasty: Ceramic Far Infrared Cooking Enhances the Food Flavor and the Entire Cooking Experience
Xtremely Durable: Cooking Surface can not be Scratched, even by Metal Utensils and Industrial Steel Wool
My Review of Xtrema™ Ceramic Bakeware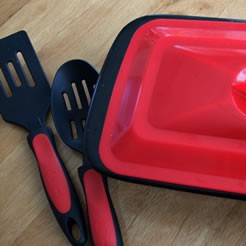 After trying out Xtrema's Ceramic Cookware, and being very pleased with it, I was even more excited at the chance to try out some of their bakeware.
The bakeware performed beautifully, just as I thought it would. I made multiple breads in the Loaf Pan and delicious lasagnas in the 3.75 Qt Oblong Baking Dish. They all turned out wonderfully and evenly cooked every time. Clean up is also a breeze, see more below on Care, Use, & Cleaning.
Besides the Loaf Pan and 3.75 Qt Oblong Baking Dish, the bakeware also is available in a Square Cake Pan and a Pie Pan…both of which I am interested in. All of their baking pans come with silicone covers that are 100% non-toxic and can withstand temperatures up to 500F. The silicone covers are also oven, microwave and dishwasher safe. The covers were very convenient, especially when making my lasagna….as I didn't have to cover it with aluminum foil like usual.
If you are looking for the healthiest, non-leaching, baking pans around for you and your family, I would definitely recommend Xtrema™ Ceramic Bakeware by Ceramcor!
Care, Use, & Cleaning
Xtrema™ states on their website:
"You cannot scratch the surface of Xtrema™ cookware…..You can use Soft Scrub, Bon Ami, Comet and Ajax powered cleaners along with steel wool SOS and Brillo pads and heavy duty scrub sponges…"
As I mentioned in the previous review, the Xtrema™ pans clean beautifully. Just a light soak in warm soapy water and a Dobie Pad will clean the pans easily (you can buy these at Wal-Mart or Target by-the-way)…you don't even need to use a lot of elbow grease.
See the Xtrema™ website for more information on Cooking & Cleaning Xtrema™ Cookware.
Xtrema™ Ceramic Bakeware – Overall Grade = A
Heats Evenly, so food cooks evenly (and stays moist).
Holds Heat well, so food stays hot longer.
Easy to Clean, not easily scratched.
Lightweight, nowhere near as heavy as cast iron.
Attractive, the cookware looks good with its high-gloss finish.
Convenience, can go from stove top/oven to table with ease.
Green, made in a way that is good for the environment.
Naturally Non-Stick, foods do not stick if pan is used properly (at low temps).
Conserves Energy, no need to cook at high temps using more energy.
Healthy, no metals or chemicals leach into your food and no off-gasing.
Great Warranty, 50 years against breakage that occurs from hot and cold temperatures.
Xtrema's bakeware has enough positives that it deserves to be known about. I highly recommend it! It is good for us and good for the environment. Look into trying it for yourself and recommend it to all your friends and family.
Purchase Xtrema™ Ceramic Bakeware
at Ceramcor.com