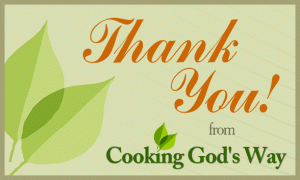 I was just sitting with Shannon and we were discussing how much Cooking God's Way has done and how many countries of the world it has reached. It was then that I had that moment of truth, you know the one when you say, "Wow!!!". It hit me we were not talking about what we had done, but what you our readers had done.
Yes, You're Cooking God's Way!!!
Being in over 75 countries of the world and having a monthly readership of thousands upon thousands, is all due to the fact that you our great family of readers has given us your time to read and comment about our recipes and articles. We want to thank each and everyone of you that reads Cooking God's Way, but it is more than just your reading what we contribute to the pot. What really hits us and keeps our hearts' serving you, are all the great comments we receive.
From the ones speaking about how the kids eat up the whole dish before Dad get's home–to the ones where people state they are changing their complete way of cooking to follow the Cooking God's Way lifestyle. That is what it's all about, changing the health lives of people that have been trapped in a prepared, processed food, toxic, nightmare. Then to hear about the health and freedom people now experience is a very humbling experience. Again, I have to thank each and everyone of you and say….
Yes, You're Cooking God's Way!!!
Over the next few articles we at Cooking God's Way, Shannon and I, will share the story of how Cooking God's Way all began, about how our family lives Cooking God's Way, and yes where we see Cooking God's Way going. Lots of new neat things coming so be sure to keep up with the next few articles.
Be-sure to subscribe to Cooking God's Way email update, where you get the latest info on recipes and articles first before anyone else knows. To sign up just enter your email address at the top of the right column. Hint: we are going to be having a few prize drawings from the subscriber list, can't win if you are not on the list!
Please, do share your stories of how healthy cooking has changed your life and your family's.
Just leave your comment below so we can all at Cooking God's Way share your excitement.