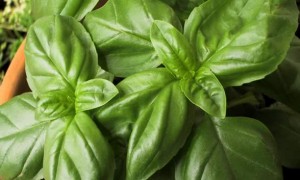 This classic Italian sauce is so easy and versatile, you'll want to always keep some on hand in the refrigerator or freezer.  It can be used for so many things…topping fish, chicken, vegetables and more.
1 cup fresh basil leaves, packed (washed and stems removed)
1 cup baby spinach, packed (washed and stems removed)
1/4 cup pine nuts, lightly toasted (toast in a dry pan on the stove until light golden)
1 1/2 tsp minced garlic
1/2 cup extra-virgin olive oil
1/2 cup freshly grated Romano cheese (Pecorino-Romano is good)
2 Tbsp lemon juice
salt and pepper, to taste
In a food processor combine the basil, spinach, and the pine nuts; pulse a few times. Add the garlic and pulse a few more times.
Next, with the food processor on, slowly add the olive oil in a constant stream. Stop to scrape down the sides of the food processor with a rubber spatula. Add the grated cheese and pulse until blended. Add the lemon juice and season to taste with salt and pepper, pulse to combine. (you may wish to add more lemon juice to suit your taste)
Makes about 1 cup.
Meal Idea: Set oven to 375°F. Line a baking pan or cookie sheet with aluminum foil; on it place some salmon fillets. Cover the tops of the fillets with pesto, and bake 15 to 20 minutes (or until fish just starts to flake). Serve with some fresh, steamed veggies and you have a great meal. This will also work with chicken breast, though cooking time may vary.
*Sugar-Free/Grain-Free

Email To A Friend

Print This Page