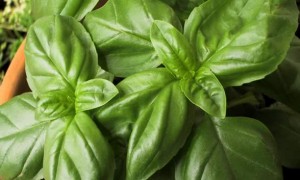 Fresh basil pesto is easy to make. It's a very versatile sauce that can be used in many ways, from topping pasta dishes to chicken or fish etc.
If you're growing basil in your garden, like I am, you will inevitably have an abundance of basil…. this pesto sauce is the perfect way to utilize your harvest. Simply make multiple batches and freeze for later use.

1/3 cup pine nuts or walnuts
2 cloves or garlic, peeled
2 1/2 cups fresh basil leaves (washed and dried), packed
2/3 cup extra-virgin olive oil
3/4 cup freshly grated Parmesan or Romano cheese
1 to 2 Tablespoons lemon juice, to taste
unrefined sea salt and black pepper, to taste
Add pine nuts (or walnuts) and garlic to container of food processor, pulse several times until the nuts and garlic are coarsely chopped.
Add in basil leaves and process until minced.
With the machine running, slowly add the olive oil in a constant stream. Stop to scrape down the sides of the container and process again.
Add in the cheese and process briefly to mix.
Season to taste with the lemon juice, salt, and pepper. Use immediately or store as desired (see options below).
Makes 1 1/2 cups.
* Sugar-Free / Grain-Free
Storing Homemade Pesto Sauce

Homemade pesto sauce can be stored a number of ways to prolong its shelf-life. Choose the method that works for you.

Refrigerator (up to 1 week) – Place freshly made pesto in a jar, cover the top of pesto with a light layer of olive oil. Close jar and place in fridge until ready to serve, simply stir in the olive oil and use as is. If any pesto remains, cover that with another light layer of olive oil and place back in fridge. Be sure to use within a week.
Freezer (several months) – Place freshly made pesto into freezer safe container(s), such as freezer-safe glass jars or plastic storage bags. Freeze in desired portions. Thaw overnight in fridge and use immediately.

Email To A Friend

Print This Page