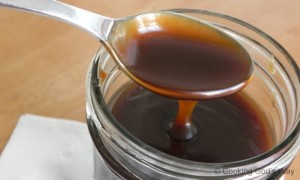 This caramel sauce is delicious on everything from homemade ice cream to other baked goods such as bread puddings, cakes, etc….it's even great in your fresh-brewed cup of coffee to make a Caramel Latte.
Safety Tip: Always be careful when working with hot, boiling, caramelized sugar – as it is much hotter than boiling water. Make sure there are no kids under-foot when attempting to make this sauce.
1/2 cup butter (1 stick)
2/3 cups dark muscovado sugar (you could probably use rapadura or sucanat)
1/4 teaspoon unrefined sea salt (omit if using salted butter)
1/4 teaspoon lemon juice
1/2 cup real maple syrup
1/2 cup raw cream (or store-bought – but NOT ultra-pasteurized)
In a 2 to 3-quart saucepan, melt butter over medium heat.
Add in sugar, salt (if using), and lemon juice. Quickly mix these ingredients together, breaking up any lumps of sugar with a whisk or fork.
Continue to cook over medium heat, stirring constantly, and scraping down the sides of pan.
Allow mixture to come to a boil. Boil for 2 minutes.
Add in maple syrup all at once, stirring quickly to mix in.
Stir constantly and allow to boil for 3 to 5 minutes more, until mixture thickens (coats the back of a spoon).
Remove from heat and add in the cream, stirring well until combined.
Let caramel sauce cool for 1 to 2 minutes, then transfer to heat-safe jar(s). Let cool to room-temperature in the jar(s) before moving to the fridge for long-term storage (up to 3 weeks).
Warm sauce gently before serving.
Makes 1-1/2 cups.