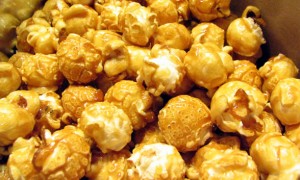 This popcorn is a healthier version of a favorite treat we love.
Enjoyed by kids and adults alike… this one uses unrefined sugars and is lower in sugar overall. But still tastes 100% delicious!
10 cups popped popcorn
1/4 cup butter
1/2 cup Rapadura or Sucanat
2 Tablespoons honey
1/4 teaspoon unrefined sea salt
1/2 teaspoon vanilla
1/4 teaspoon baking soda
3/4 to 1 cup peanuts, optional
Butter a large rectangular baking dish (9×13-inch).
Sort through popped popcorn and remove all unpopped kernels.
Place popcorn in greased baking dish, along with peanuts (if using). Set a side.
Preheat oven to 300F.
In a medium saucepan over medium heat, melt butter. Add in the sugar, honey, and salt; stirring to combine. Allow to come to a boil. Boil for 5 minutes stirring constantly.
Remove from heat, stir in vanilla and baking soda, and immediately pour caramel mixture over popcorn in baking dish. Using a spatula, fold caramel into popcorn to coat.
Place in preheated oven and bake for 10 minutes. Stir popcorn in baking dish then bake for another 10 minutes. Remove from oven and allow to cool, stirring occasionally.
Serve slightly warm or completely cool.
Makes 10-cups.